Eco Tours into the Cenotes around Tulum, Mexico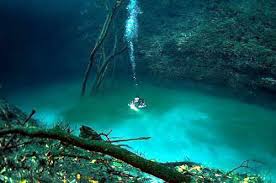 Angelita is a very unique and special place to scuba dive in, hardly ever experienced, it resembles to be diving in an horror movie.
It is an uncovered huge hole  in the middle of a very thick jungle that goes down to 204 ft (66 m). It`s most amazing feature is a 4.5 ft (1.5 m) thick hydrogen sulfide cloud that starts at 83 ft (27 m). This forms out of the decomposition of the trees and leaves that fall from the jungle into the cenote and accumulates where the fresh and the salty water meet (halo cline). As you are getting in to the cloud it seems that you are getting to the bottom of the cenote, but guau, suddenly your guide starts despairing in to it!. As you get below the cloud the visibility goes fine again but this time since you are under the cloud it`s dark (of course we take lights with us). Since the jungle around the cenote is so thick it has gotten lots and lots of vegetable material that apart of forming the cloud have formed a mountain in the cenote that is fully covered with this jungle peaces. My favorite part of the dive is the view of the pick of this mountain you get as you are coming out the cloud, it just gets some meters in top of it, so it seems as the pick of a creepy mountain coming in top of a cloud. In the slow way up we get in to a cave that does a loop in to the main hole  and we can appreciate a few trees that are still hanging from the walls of the cenote.
On the scuba dive we operate here we go down to a 120 ft (40 m) and we make a bottom time of about half an hour. It requieres to be an experienced scuba diver, with experience in deep diving and cavern diving to dive in this cenote.
Dificulty: Very Hard
Amount of dives: 1
Scuba diving video shot in Cenote Angelita, Tulum by Agua Clara Diving Tulum diveshop located in Tulum. The video shows the amazing "clouds" that form in the cenote depths. Angelita in spanish means "little angel".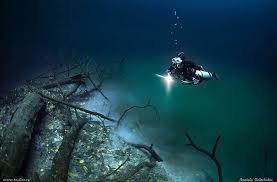 List of the Cenotes near Tulum
All of these cenotes are part of our guided eco tours both for snorkeling and scuba diving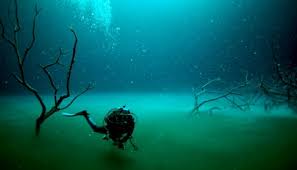 Eco Tours a los cenotes alrededor de Tulum, Mexico
[imagebrowser id=36] Angelita es un lugar muy unico y especial para practicar buceo scuba, nunca en mis años de buzo he encontrado algo similar, es difícil de describir pero parece como estar buceando en una película de terror.
Es un agujero sin techo enorme en el medio de una selva muy densa que baja a unos 66 m (204 pies) de profundidad. Su mejor encanto es una nube de sulfato de hidrogeno de un metro y medio de espesor (4.5 pies) que empieza a los 27 metros de profundidad. Esta se forma por la descomposición de los arboles y hojas de la selva que caen al cenote y se acumula en el punto a donde se juntan el agua dulce y el agua salada (halocina). Cuando te vas acercando a la nube parece que te estas acercando al fondo del cenote pero no, guau!, el guía de repente desaparece en la nube. Una vez debajo de la nube la visibilidad vuelve a ser buena pero es oscuro porque la nube no deja pasar la luz, por supuesto que llevamos lamparas para este momento. Como la selva al rededor del cenote es tan espesa se ha juntado una cantidad impresionante de materia vegetal que ademas de formar la nube ha formado una montaña completamente cubierta de pedazos de selva sobre la que buceamos bajo la nube. Mi parte favorita de este buceo es apenas es la vista que hay de la punta de esta montaña cuando se sale de la nube, la punta esta apenas unos metros por encima de la nube y da la apariencia de un terrífico pico saliendo de una nube. En el lento ascenso a la superficie entramos a una pequeña cueva que hace un loop de regreso al hueco principal y podemos apreciar varios troncos de arboles que han quedado colgados de las paredes del cenote.
El  buceo scuba que operamos aquí bajamos a 40 m (120 pies) y hacemos un tiempo de fondo de una media hora. Para bucear en este cenote se requiere ser un buzo experimentado con experiencia en buceo profundo y de cavernas.
Dificultad: Muy difícil
Cantidad de buceos: 1