This article is about Cenote dos Ojos and Diving & snorkeling  tours into the Cenotes of Yucatan, Mexico.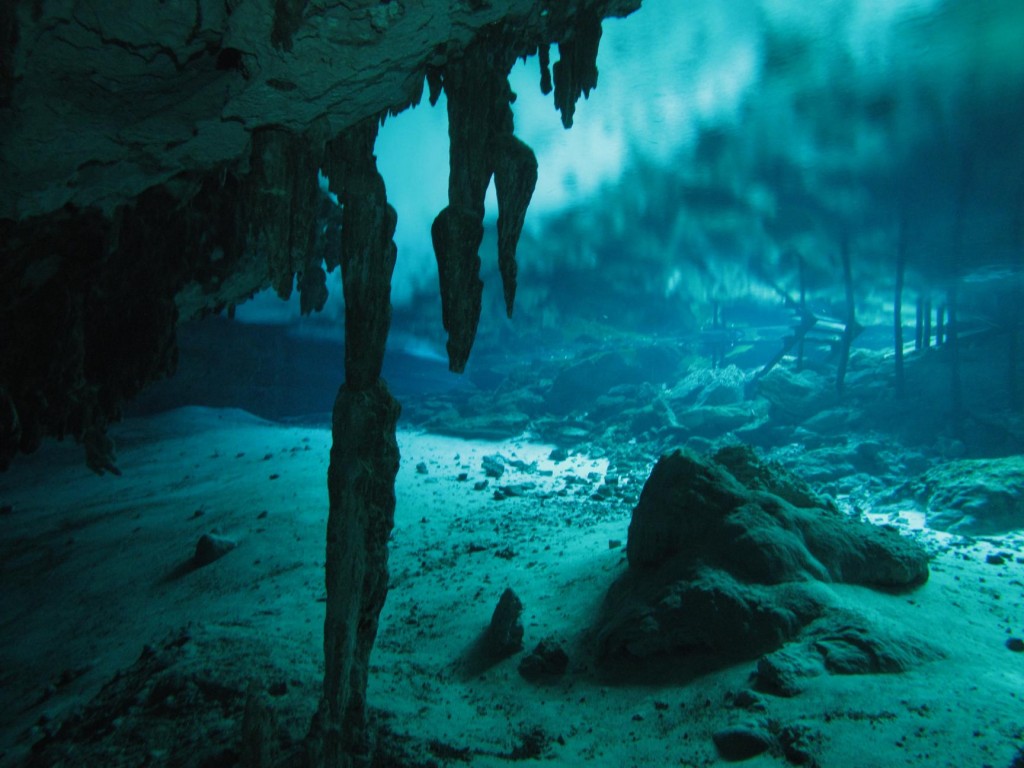 Cenote Dos Ojos Tulum
2 tanks  Difficulty: Easy  Dive certification required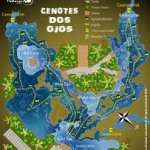 Dos ojos (Two Eyes) refers to two neighboring cenotes that are connected by a large cavern and that seem to look into the subterranean river. Dos ojos laso refers to a flooded cave system located north of Tulum, on the Caribbean coast of the Yucatán Peninsula, in the state of Quintana Roo, Mexico. The original explorations of this water system, one of the largest in the world, started in these cenotes.In May 2013 the total length of the combined system measures 310.95 kilometers (193.22 mi). Dos Ojos was filmed for IMAX in 2002 and for BBC/Discovery in 2006. Dos Ojos is an excellent place to do the first dive in a cenote due its wide spaces, cristal clear waters and heavy sediment, making less risky the removal of it. This cenote dive site cosist of two independent circuits: The first dive starts at the Barbie line, a 750 mts line of wide spaces and big  light entrances. We always start the dive with this line because its very close to the surface and its a great way of getting aquainted to the feeling of the fresh water, were there is less buoyance and the changes are faster and more delicate. The duration of this dive is 45 minutes and the maximum depth is 10 mts. The second dive cirucuit is called the Bat cave, a completely different experience, the bat cave is and adjacent cenote, next to dos ojos, and represents a much more preserved enviroment, mainly due the fact that the roof of the cenote hastn´t collapsed yet and all the formations around it maintain in very good shape. The dive circuit has a lenght of 450 mts, is darker and takes about 35 minutes. If you are interested in this dive, please chek our cenote diving tours page.
List of the Cenotes near Tulum
All of these cenotes are part of our guided eco tours both for snorkeling and scuba diving. If you are planning to visit Mexico to discover this amazing natural places, do not hesitate in contacting us we offer personalized scuba diving eco tours into the cenotes of the Mayan Riviera. Contact Us
Click on the Cenotes to find details about each of them: