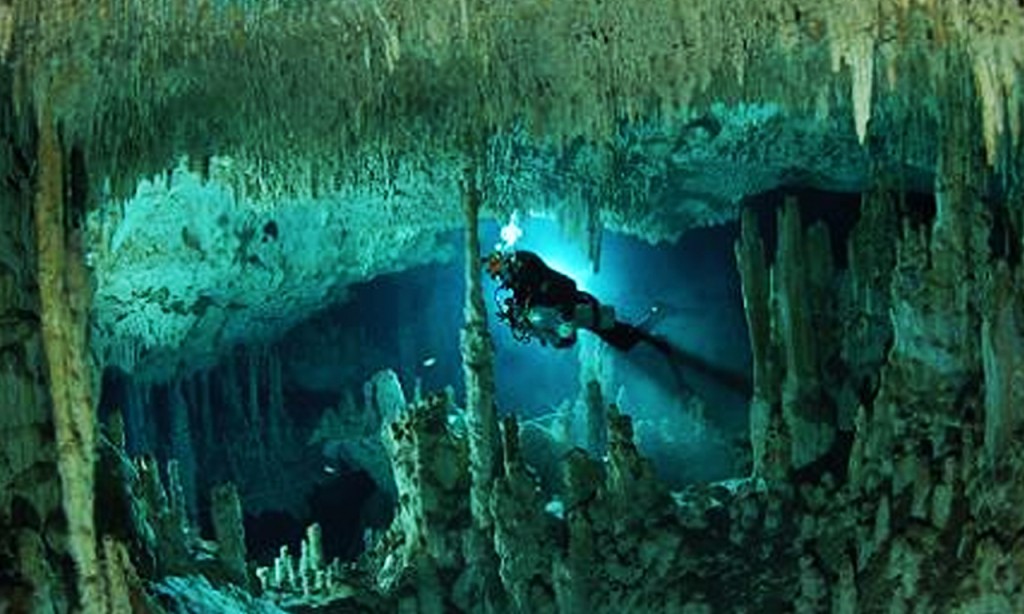 Eco tours into the Cenotes of Tulum, Mexico
Cenote Dream Gate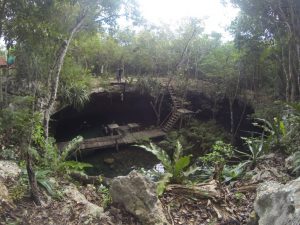 Dream Gate refers to a cenote surrounded by a big cavern that it is part of Sac Aktun underwater cave system (like Gran Cenote and Casa Cenote). It is located around 10 km north of Tulum, and in my opinion it is the cavern in the area that has the most and nicest speleothemes (cave formations), the cavern is completely full of stalactites, columns and stalagmites.
There are two independent circuits for diving in this cavern: The upstream line and the down stream line. The upstream line is the nicest decorated one, at the furthest away point of it there is an air pocket with a fully decorated ceiling where we come in to the surface. When heading back to the entry the view of the light getting in to the cenotes and the stalactites making contrast with the light is just breathe taking.  This dive takes about 35 min to be dived and the maximum depth of it is 5 m (15 ft). The downstream line is quite different;  it's also  fully decorated and it connects with an other cenote, in the way there are a lot of roots from the jungle getting in to drink water, and at the furthest away point of the circuit you can see the light from the other cenote coming in. This dive bottom times and depth are pretty similar to the upstream dive ones, 35 min, 5 m (15 ft)
Scuba Diving in this cavern is recommendable for people that has been diving in some of the beginner caverns before (and felt confortable in them) because it is quite small, fragile and in parts dark.
Amount of dives: 2
Difficulty: Hard
List of the Cenotes near Tulum
All of these cenotes are part of our guided eco tours both for snorkeling and scuba diving