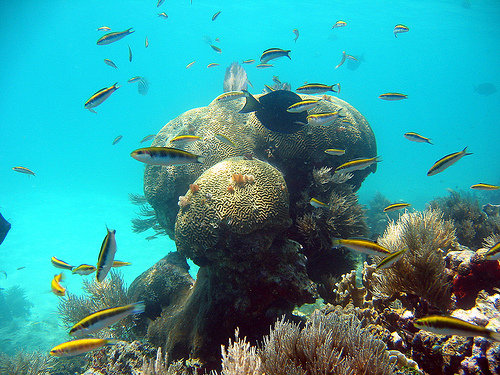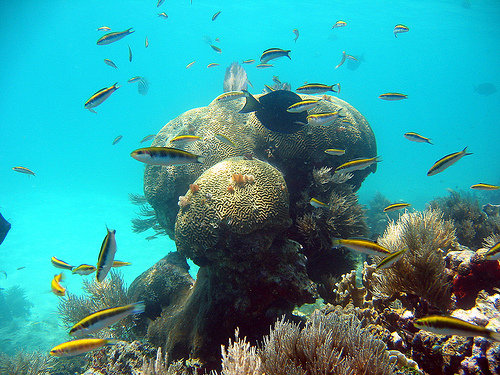 The Mesoamerican Reef
Tulum is part of the Mesoamerican Reef System, which extends over about 1000 km along the Caribbean coasts of Mexico, Belize, Guatemala, and Honduras. It is the largest coral reef in the western hemisphere and the second-largest in the world, after the Great Barrier Reef of Australia.
With more than 65 species of rock corals, 350 species of molluscs, and over 500 fish species, the Mesoamerican Reef is a natural refuge for protected and endangered species.
It is logical to consider that visiting these places represents a great privilege that, in addition to enjoying, we should treasure and maintain.
We believe that the first step toward generating environmental awareness and protect these natural areas is to experience nature in its original state by engaging in eco tourism activities with minimal impact and providing information about the delicate balance that sustains it.
Some of the places we visit in our Eco Tours in Tulum
The tours offered by us are designed to convey the consequences of a natural act over another, to understand the ecosystem in question as a whole. The places that we visit include:
The coasts of Quintana Roo are visited every year from May to October by thousands of turtles that come to nest and lay eggs. Xcacel-Xcacelito is one of the most important places that receives these turtles. It is a large bay that is characterized by the turquoise-blue waters of the Mexican Caribbean. In this area, several different types of ecosystems can be observed: cenotes, mangrove forests, and coral reefs. It is an ideal place for swimming and snorkeling. Starting 26 years ago, biologists, researchers, and volunteers have joined efforts to protect sea turtles at the beach of Xcacel-Xcacelito. From July to November events are scheduled to watch the laying of eggs, the release of newborn turtles, and the sea turtle festival.
Akumal is one of the many beaches of the Mayan Riviera and a feeding spot for sea turtles because of its high content in sea grass. Because it is an area that is protected from waves and currents by the proximity of the coral reef barrier and the high probability of seeing a turtle, Akumal is an ideal snorkeling spot.
Caleta Tankah is a large solitary beach, untouched in its majority, from where you can observe the ruins of Tulum, located only 1 km away. "Caleta" means the mouth of a crystalline subterranean river that opens directly onto the sea. This location is ideal for swimming, snorkeling, and resting. Inland, you can enjoy a beautiful jungle dotted with small transparent cenotes.