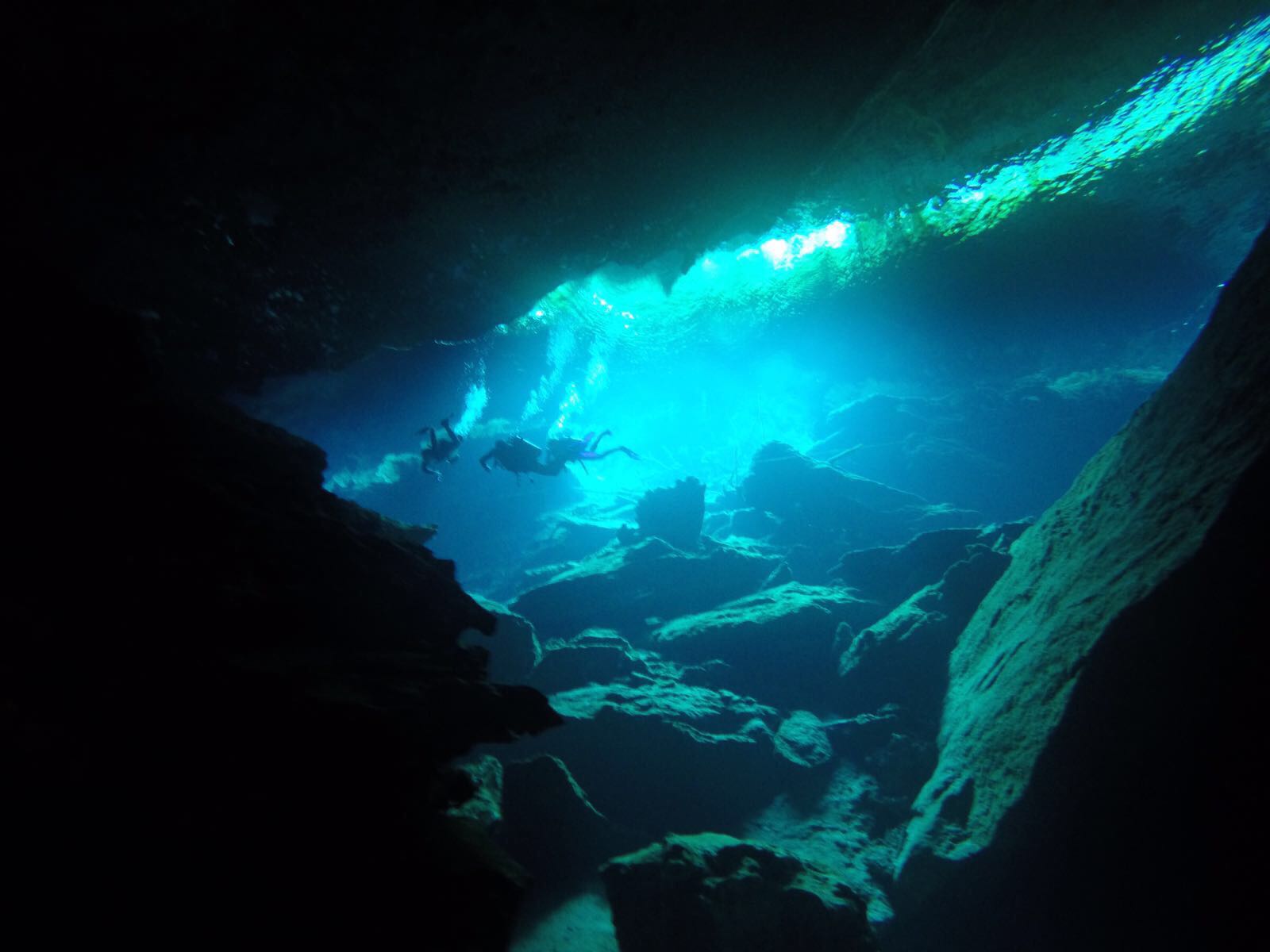 Cenotes are clear water wells and ecosystems that mix Mayan history with natural beauty. To immerse oneself in their caverns is another way to take advantage of the wonders they offer to those who seek to enter into this marvelous adventure.
Cenote diving is a recreational activity that allows you to explore the secrets of this hidden world while staying in the safer parts of the caves, the parts that are easy to dive in and close to the exit, for a dive to be considered a recreational cenote dive (our cavern dive for talking in the same language as the local diving community)
Be less than 60 meters from the surface
Have a visible surface outlet with easy access
Have an extension large enough to comfortably fit two people side by side.
Be shallower than 40 m (120 ft)
This activity is conducted by a cavern guide who, in addition to being a dive guide (Divemaster), must be certified as a full cave diver.  Cenote diving enjoys safer rules than open water diving, the maximum number of people allowed per group is 4 members. This group will be organized after the guide in a single row and follow a guide line so as to dive safely in caves that could reach a maximum depth of 40 meters.
It is extremely important to take care of the ecosystem to which it is accessed, for which it is necessary to handle the buoyancy very well in order not to damage the cave and thus avoid the dispersion of sediments.
Tulum is a great destination to encourage a baptism in cave diving or to intensify your skills, as each cenote has a different level of difficulty. For example, Casa Cenote has a large open area and small caves that makes it an optimal place to refresh diving skills if you have not been diving for some time. Dos Ojos and Gran Cenote, are optimal for divers who maintain a constant practice but who are going to dive cenotes for the first time. Carwash, Chikin Ha and Taj Mahal cenotes have an average level of complexity and Dream Gate and Calavera are more even more difficult. For all those you need to have some cenote diving experience in advance. Pit and Angelita are the ones with the highest degree of complexity, apart from been caverns they are deep and so it is necessary to be well trained (advanced open water at least) and have planned every detail of the immersion.
It's time to discover a new  water world under the jungle!