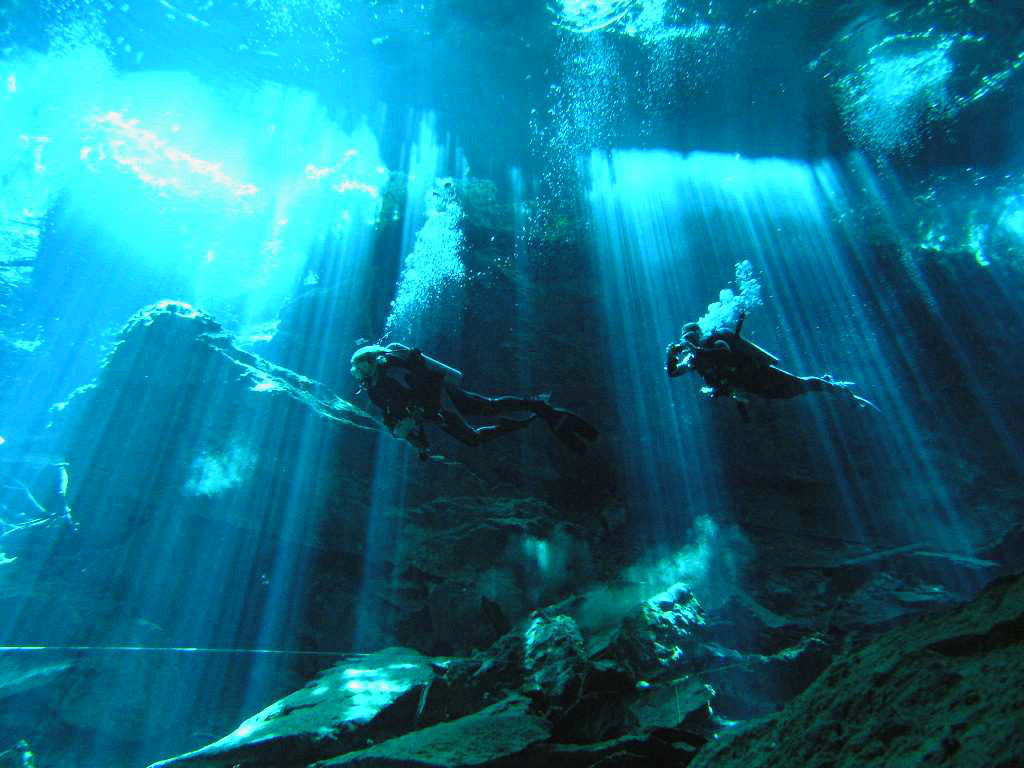 One of the best and unforgettable experiences to carry out in the vicinity of Tulum is to dive or snorkel in the marvelous Dos Ojos cenote.
¿What does cenote mean? A cenote is a well or water pond supplied by an underground river that is formed in numerous places of the Yucatán Peninsula by the soils erosion. A combination of various geological events and climate changes created an incredible and unique ecosystem in Mexico's Yucatan Peninsula establishing naturally these caves and underground rivers millions of years ago. The Mayans call these sinkholes "Dzonot", which in English means "sacred well". The cenote is the only source of fresh water in the jungle and is also considered an entrance to the mythical and spiritual underworld.
This particular cenote is called "Dos Ojos" which in English means "Two Eyes" because there are two circular shaped cenotes, the big eye and the small one, located very close one to another. And also because you need both of your eyes to appreciate the beauty of the aquatic world inside this magical dive site.
The entrance to this popular cenote is situated one kilometer south of Xel Ha, 17 km north of Tulum and roughly 48 km south of Playa del Carmen. A 2 km dirt road leads from the highway to the cavern and caves areas.
This cenote offers you the chance to do snorkeling in fresh crystal clear water, where it is possible to see beautiful decorations of stalactites, stalagmites, columns and helectites. Also, Dos Ojos Cenote is spectacular for cavern diving, a must do for any trained divers who are looking for something different. Certified cave divers can plan many different dives and continue miles in either direction into this extensive cave system with about 80 km of explored length and connected to other cenotes. The cavern dives performed in this cenote are ideal for first time cavern divers.  For non-divers, the Two Eyes Cenote is a perfect location for snorkeling and swimming closely to this fantastic formation.
Come and fly under the jungle, what are you waiting for?