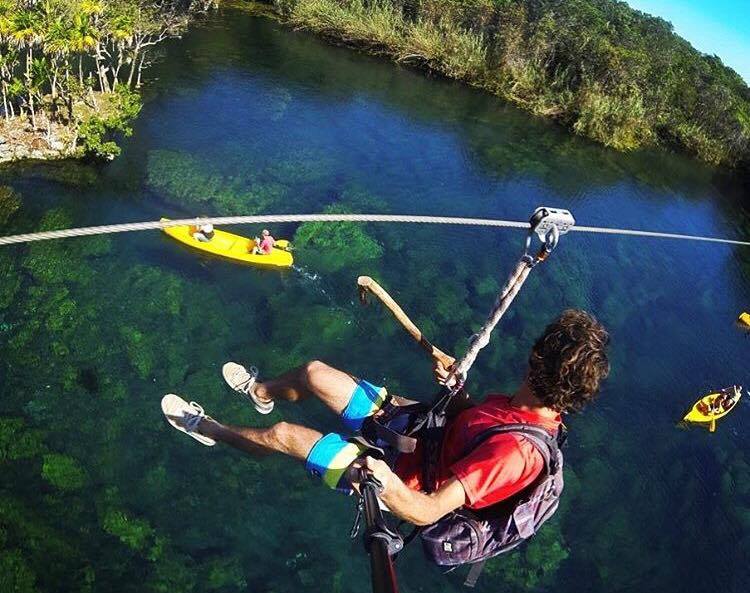 Tankah is a beautiful ecological park surrounded by virgin jungle. It stands out for having a spectacular lagoon and 4 open-air cenotes with crystalline waters that fill the place with mysticism. It is located by an internal road in the KM 233 of the highway Cancun Tulum. And its only possible to get in with authorized tour operators like Agua Clara Diving Tulum.
The Tankah Park is a great destination to visit, as it offers activities adapted to all ages. Here, in addition of making entertaining walks, you can do canoeing, swim in the cenotes and the more adventurous can cross huge cenote naval making zipline.
From the beginning, you can appreciate the impressive vegetation which fills of color the walk, here the wild orchids are protagonists and worthy of admiration. The tour is conducted by a guide who gives an introductory talk where he tells the historical value of the place and informs every special detail, from the particularity of the trees to exclusive details about the birds that approach and make the scene more picturesque.
Those who choose this excursion should only be concerned with bringing comfortable clothes, walking shoes, swimsuit and a good mood to mix with nature.
The Tankah Park also has a sector with comfortable hammocks where you can rest for a few minutes, breathe the pure air quietly and continue with the activities.
Agua Clara Diving Tulum focuses on providing a personalized service to groups of few people, so although it is estimated that this excursion lasts about 5 to 6 hours approximately the length of the walk depends on who are part of the walk.
The Tankah experience ends with a great Mexican lunch where you can taste yucatecan chicken, poc chuck (traditional grilled pork), guacamole, beans, different types of regional vegetables and also homemade corn tortillas that accompany the buffet. Seasonal fresh fruits are also available. The gastronomic experience is closed with an exquisite coffee with cinnamon prepared in crock pot.
Tulum offers pristine jungle, crystal clear water cenotes, adventure, fun and history on an incredible excursion through Tankah Park. Come and fill yourself with the energy of the nature of the Riviera Maya!
For booking this Eco Tour: http://aguaclaradivingtulum.com/diveshop/tankah-5-cenotes-tour/